We love cooking…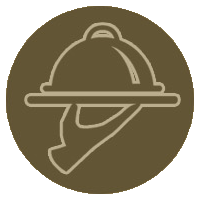 John Bull focuses on offering great food! The menu is changed regularly, trying to mix in some modern alternatives mixed with traditional pub food mixed with classic Swedish cuisine during the lunces. Personally I think we are doing a great job giving our guests what they expect for such a place like ours. 22 years in the row.
The food is what you can expect: steaks, burgers, pastas, salads, ribs, the classic fish & chips, vegetarian/vegan dishes and something for gluten/lacto intolerant persons. The
We also have a wide variety of smaller dishes and snacks for those that just need to have a small refill and why not try our excellent coffee, cappuccino and espressos.
Part of the experience eating at a restaurant is checking out the menu, deciding if there is something you like. Why should you make the choice in your living room? The atmosphere of the pub will never be felt from your living room, your phone or the hotel room. That is why we will not post the menu online for now.
And honestly, we are sure that you will find something you like regardless if you are coming in alone or with a big group of people.
You are always welcome at pub, and if you want to book a table just call +46-46-140920.
Our food now and in the past.